Hey guys,
With summer winding down, here's a look at one of my favorite fall makeup looks. I hope this adds a little sparkle into your dreary fall days!
And remember….
MAKEUP MAYHEM: URBAN DECAY ELECTRIC PALATE
Since the launch of this palate a few months ago, I have been obsessed with these colors. This is obviously not an everyday palate, however you can use this in addition to everyday neutrals to spice up your summer look.  Urban Decay,  who is known for their Naked Palates more than anything else, really hit the mark when they introduced this neon stunner to the market. Unlike many bright makeup palates,  what you see is what you get. The pigmentation of every color is rich, velvety, and absolutely delicious.  If your in need of ideas or inspiration, read on to see what I came up with.
I used Slow-burn (a neon orange color) on the middle of the lid and blended it out into Urban (a true grape purple). I used urban to build up intensity, adding more color at the outer corner.
I also used a highlighter (listed down below) in the inner corner,and blended it into Slow-burn. I applied a thin line of black liquid liner just to give definition, and then put on a few thousand coats of mascara. If your interested in what I used on the rest of my face, or where you can buy the products used keep reading.
Products I used:
NYX -Jumbo eye pencil in milk and can be purchased here
Urban Decay- Electric Pressed Pigment Palate and can be purchased here
L'Oreal -True Match foundation in N4 and W3 and can be purchased here
L'Oreal -True Match concealer in N6-7-8 and can be purchased here
NYX- Dark Circle Concealer in light and can be purchased here
Maybelline- Dream Lumi concealer in Ivory and can be purchased here
Rimmel- Stay Matte pressed powder in transparent and can be purchased here
MAC- blushes in Melba and Blunt and can be purchased here
The Balm- highlighter in Mary-Lou-Manizer and can be purchased here
L'Oreal- Super Slim liner in black and can be purchased here
Make Up For Ever- Smoky Lash mascara in rich black and can be purchased here
Rimmel- 1000 Kisses Stay On Lasting Lip liner in rose quartz  and can be purchased here
Rimmel- Lasting Finish by Kate in 17 and can be purchased here
And remember…..
MAKEUP MAYHEM: A COMPLETE GUIDE TO MAKEUP BRUSHES
As a person with a love , and fair talent for the many mediums of  art, I am well aware of how important an artists tools really are.  One of my favorite things about makeup is that it allows for self expression, and in essence provides each person with a blank canvas to paint whatever they want to say about themselves. With this line of reasoning ,it seems imperative that one would have the right brushes to get the job done. Below is my guide to all the must have makeup brushes, so weather your going for a Picasso or Monet I got you covered.
Before we get into different brushes and how they work best, lets talk about hair. Brush hair that is.  To really achieve the best results for you, there are some important factors to consider.
Animal hair–
1.Goat(Kapra)- There are a wide variety of goat hair brushes,that vary in size and shape.
Strengths-Goat hair is great for evenly distributing powder on the skin, and blends powder products well.
Weaknesses- Although it can be dyed many colors, many goat hair brushes are white and can become stained through normal use. Like other natural hair brushes goat hair is very porous. This can cause the hair to not only retain product, but also bacteria right along with it. Natural brushes can ofter provide a streaky,uneven finish when working with cream or liquid products.
2.Sable(Kolinsky)– Kolinsky, or also known as sable brushes are loved for there ability to retain there shape. Although these brushes are often referred to as sable,they actually come from the tail of a type of mink. Kolinsky sable is the finest grade of sable brushes,and is one of the softest types natural hair.
Strengths- Because of  the porous nature of these brushes,they can really apply the truest color. Kolinsky brushes are often used in nail art as well because they have the ability to maintain a precise shape. When properly cared for, these brushes can last a  long time. Depending on the type of brush, many sable brushes can be used with liquid products.
Weaknesses- Like other natural hair brushes, these brushes are often very expensive. Depending on where you stand with animal rights, the process in which the various types of animal hair is collected is not always on the up and up. The truth is, with the technology we have for manufacturing synthetic brushes, any animal hair brush can easily be replaced with a more animal friendly counterpart .
3.Badger– Is a very stiff type of natural hair, and the most readily available type of brush hair. It has a conical shape due to it's thicker middle,and thin top
Strengths- Because of it's rigid and thin nature, badger brushes work well to define eyebrows while providing a softer look than a pencil.
Weaknesses-Because of it's soft and elastic texture , badger brushes must be always kept cleaned.
4.Pony– Pony hair is mostly used in soft, fluffy cheek and face brushes. It comes from the mane of young horses that are at least two years in age,and is fine and very soft.
Strengths-Because of it's soft but strong nature,pony hair is typically used in face and eye brushes. This brush can be used wet to provide more opaque coverage ,or used dry for even blending of powders.
Weaknesses-  It can be costly like the other variations of animal hair brushes, and can also be problematic for people who are allergic to animal hair.
5.Squirrel– Squirrel hair has a conical shape, with a thicker belly that tapers off into a fine tip.
Strengths-It is the softest of all the animal hair, and makes an ideal blending brush. This type of hair works well with pigments and eye shadows, which is why many eye shadow blending brushes are composed of this type of hair.
Weaknesses- This hair type has very little snap, which can be a problem in maintaining the shape.  Squirrel is one of the most expensive types of animal hair.
Synthetic hair-
Nylon– This synthetic bristle lacks a cuticle, but can imitate the functions of other animal hair brushes.
Strengths- Nylon can buff, or blend cream or powder products. Because this type of bristle lacks a cuticle, it can actually be better at fending of bacteria that could otherwise get trapped in a natural brush.
Weaknesses- The bristles can harden with time,and they will need to be replaced more often than some of the natural hair brushes.There are brushes(especially ones that come in large sets) that are made with a poorer grade of nylon, and can feel scratchy,or not blend well.  Always be aware of what your are buying, there are great affordable synthetic brushes on the market,so do your research.
Taklon– Taklon is a fine grade of nylon.
Strengths-Shares all the same strengths as nylon,but in addition taklon brushes can be softer. Can blend cream and powder products well,depending on the shape and cut of the brush. Synthetic bristles are both a cost effective, and animal friendly way to stay beautiful.
Weaknesses- Will need to be replaced more frequently than animal hair.
Cuts of brushes– Below is a list of the basic cuts that most if not all makeup brushes fall into.
Parts of a brush- Below I listed all the parts of a typical makeup brush,so its easier to understand what I'm talking about.
Types of brushes- Now that you know about the different types of brush hair, and your throwing around terms like ferrule, let me tell you my type.  I'm not talking tall, dark, and handsome,although those three words could describe a great powder brush. Makeup brushes now come in more shapes and sizes than there are flavors of ice cream,but most brushes fall into one of the types below.
Types of face brushes-
1.Duo fibre brush–  The duo fibre brush or stipple brush is often made of synthetic hair,or can be a mixture of both synthetic and natural hairs.
Strengths- This brush can give a light-weight ,airbrushed appearance to cream and liquid products when buffed into the skin. Works well with liquid or cream foundation,concealer, cream bronzer,cream blush,and cream or liquid highlighters.
Weaknesses- Does not play well with powders. Because of it's unique layered shape , it does not always provide an even application of powder products.
Maintenance- Needs a gentle deep clean approximately every two weeks, and can be spot cleaned with a make up brush cleanser in between to prevent product build up.
2.Kabuki brush-This brush is most often made of natural hair, and is very dense. Also be aware that there are two types of kabuki brushes.  One type is like the one pictured above, and the other is made of synthetic bristles and is used like a buffing brush.
Strengths- Great for applying powders to large areas , like face powder or bronzer to the shoulders and neck. Also works well with mineral makeup.
Weaknesses- Does not work well with cream products , and because of it's size detailed application can difficult.
Maintenance- Deep clean with a gentle cleanser every 2 weeks-4 weeks. Make sure to lay on it's side to prevent water from running back into the ferrule.
3.Powder brush-This brush is most often made of natural hair. It comes in various sizes , and shapes.
Strengths- Because this brush comes in many shapes and sizes ,you can suit whatever needs you have. If you only want to apply powder products to a select area of the face, opt for a smaller version. If you want to apply a face powder all over, a large fluffy powder brush can save you time.
Weaknesses- Does not work well with cream products, and some versions can feel scratchy to the skin.
Maintenance-Same as the kabuki brush.
4. The fan brush– Made of either natural or natural and synthetic hairs.
Strengths-Amazing for applying powder highlighter to the tops of your cheek bones,or for setting under eye concealer.
Weaknesses- It's unique shape makes all over application difficult.
Maintenance- Wash with a gentle cleanser at least once a month to prevent bacterial growth. Pay close attention to pulling the brush back into shape after cleansing, to maintain the shape of the bristles.
5.The angled blush brush– This brush is usually made from natural hair, and is cut on an angle.
Strengths- Incredible for applying blush, bronzer,or a highlighter. Because of it's angled shape, this brush also works great  with any powdered contouring product. Make a fish face,and suck in your cheeks to find the hollows below your cheek bones. Nestle this puppy right in the hollow and blend from your ear to right under the apple of your cheek.
Weaknesses- Because this brush is normally made with natural hair ,cream products  are a no-no.  Most of the varieties of this brush are made of goat hair ,and can stain easily.
Maintenance- Spot clean as needed,and deep clean every 2-4weeks.To ensure the tapered angle maintains it's shape, pull back into shape after deep cleaning, and allow to dry over the edge of a table with the bristles slightly hanging over.
6. The flat foundation brush– The bristles are usually made with synthetic fibers, which is ideal for putting on cream or liquid foundations. Its has long dense bristles which make up it's paddle like shape.
Strengths- Use this brush to apply your moisturizer,foundation ,or any cream or liquid product.  Because of it's shape, this brush can be great if you want a more full coverage look. It also can be good for feathering out the edges of other cream products.
Weaknesses- This brush does not buff the product into your skin,and can leave streaks in your foundation. It lays the product down on the skin which can give off an unnatural or heavy look if you don't blend with something else.  To fix this dilemma just use your fingers to blend your foundation in after you apply it with this brush.
Maintenance- You will probably need to deep clean this brush more frequently than those you use with powdered products. Foundation can build up in the bristles, making the brush hard to work with.
7. The buffing brush–  This brush is made with synthetic fibers, and has shorter densely packed bristles .
Strengths- This brush is absolutely amazing if you want an airbrushed appearance to your skin. It buffs and blends liquid or cream foundation into the skin effortlessly. You can also use it to really work you primer or moisturizer into the skin. It leaves no lines,and leaves your skin looking like skin.
Weaknesses- Its shape doesn't really lend itself to powdered products.  Because of how dense the bristles are it applies to much powder or blush to one area.
Maintenance-  You will need to deep clean this brush at least every two weeks,and spot clean it every 1-2 uses. This may seem a bit much but your efforts will be rewarded when your skin looks like a magazine cover.
8.The concealer brush–  Usually a small, flat, tapered brush with a dense arrangement of bristles.
Strengths- This brush allow you to apply a concentrated amount of product where you need it most. My favorite job for this brush is actually laying down an inner corner highlight. Because  of it's shape its great at packing on eyeshadow, while leaving minimum fallout.
Weaknesses- Can apply a heavy dose of your favorite concealer,but does not blend or buff out the edges.
9.Pin-point concealer brush– A thin, tiny , and tapered brush, that is shaped similar to an eyeliner brush.
Strengths- This brush is great for the tiniest of imperfections, just be sure to blend around the area by dabbing with your fingers.
Weaknesses- In a very basic set of makeup brushes, you could get by without this. You can even substitute a similar small brush for the job.
Eye and detail brushes- If your trying to keep it basic, you could probably survive without most of the brushes listed above , just by using your hands to work in your foundation and concealer. Its pretty impossible to say the same about the following eyeshadow brushes. No matter what kind of eye look your going for, your going to need to blend it out. So without anymore deliberation,Let's get started!
Eyeshadow brushes-
1.The fluff brush– Thick fibers bundled together provide for applying color all over the lid.
Strengths-Because of it's fluffy nature, it's able to blend out small areas as well.
Weaknesses- It can leave eye shadow fall out under the eye when packing on color.
2.The liner brush–  It's very thin tapered tip allows this brush to apply gel or liquid eye liners with ease.
Strengths-It's great for winging out a cat eye or for pushing product into the roots of the lashes.
Weaknesses- Needs to be cleaned after every use.  No matter what eye liner formulation your using it will stiffen on your brush every time. Just use some spot cleaner and a tissue after you use it, and it will be ready to go for the next time.
3.The push liner brush-This brush is composed of stiff ,short ,and straight bristles ,which allow for precise application.
Strengths-This brush is great for wiggling eyeshadow in at the base of your eye lashes. Because of it's stiff bristles,it is great for beginners or those who want a softer look.
Weaknesses- Not really great for providing a detailed cat eye.
4.The shader brush- The densely packed, tapered bristles make this brush ideal for packing color on all over the eye.
Strengths- This brush works great for applying a highlight to the brow bone, or for packing on color all over the lid.
Weaknesses- Not really designed for blending out color.
5&6- The blending brush– A fluffy,tapered brush with longer soft bristles.
Strengths- This is probably the most useful brush I own. If you want to lay down color anywhere on your eye, this guy can do it. If you need to blend out harsh edges, it can do that too. This brush is also amazing at buffing in concealer . If I had to choose one, I would stick with a smaller version of this brush,like the number 5 listed above.
Weaknesses- The larger fluffy version (number 6 above) can be prone to shedding. Be sure to to wash this brush properly,pull back into place and allow to air dry over the edge of a table.
7. The pencil brush– A small detail brush, with a grouping of fine hair that is tapered into a pencil shape.
Strengths- This brush is great for mapping out a cut-crease, or for blending in color or eyeliner into the roots of your eye lashes.
Weaknesses- Not really meant for much else.
8. The spoolie– This brush has a coarse,stiff, spiral formation of bristles , and is used wet to apply mascara.
Strengths- If your going to apply anything to your eyebrows, this brush is necessary. Many eyebrow pencils now come with a spoolie on the opposite end.
Weaknesses- Not really  big on multitasking.
9.The angled brush– A stiff,thin line of bristles cut on an angle.
Strengths- This brush is perfect for using shadow to create a defined brow. It's thin enough to mimic your natural eyebrows. This brush is also great for using eyeshadow softly at the lash line, and then flicking upwards in a cat eye shape.
Weaknesses- There are many variations to this brush on the market, be sure you get one with stiff,firm bristles. If the brush is too thick, it won't mimic you natural hair growth,and it will end up looking like you filled your eyebrows in with a crayon.
My favorite brushes- I think the real test of how great something works ,is how often you use it.  I've included a list of the brushes that I absolutely could not live without. Before I dig into my favorites, I'd like to say that you need to find out what works for you. Many of my brushes are used for something completely different then what they were designed for. So bearing that in mind, let's get started.
1. Real Techniques buffing brush- After I slap my foundation of with my fingers, I buff it into the skin with this brush. It manages to leave your skin flawless, yet it still looks like skin. If you have not tried brushes from this line yet, you don't know what your missing. They are deliciously soft, and work with cream or powder products. You can purchase this brush here
2.Sigma large angled contour brush- This brush just applies blush and bronzer so well. It's also amazing for contouring with powder products. The angle allows you to nestle it right under your cheek bone, resulting the perfect contour.You can purchase this brush here.
3.MAC 116 blush brush- This brush is just a great size for whatever powder product you want to apply. I like it for applying setting powder down the center of the face, and also under my eyes. It's fluffy enough to where you don't pack on the product, but small enough to get under the eyes. You can purchase this brush here.
4.Real Techniques deluxe crease brush- Now I know this brush is meant to be used as an eyeshadow brush, But I can not live without it for concealer. You could absolutely use this brush for buffing out your shadow, but  it's the best brush I've ever used for blending in concealer. Because of it's thick, dense, and ultra fluffy bristles, it covers imperfections like a dream. This brush is great for blemishes or under the eye. Amazing . You can purchase this brush here.
5.Sigma F-70 concealer brush- I have tried using this brush for it's intended purpose, and it get's the job done.  With that being said, this brush is great for laying down eyeshadow. If I'm trying to build up color, this is my go to brush. I also love this brush for brightening up the inner corner of the eye. You can purchase this brush here.
6. MAC 217 blending brush- I have many versions of this brush from all different companies, but this is my favorite.  I like it so much because of the size. Many versions are not tapered enough for detailed blending, and end up buffing color up or out too high. This guy is just perfect.  This brush fits in the crease,can lay down color, or buff out concealer. There is a reason this is in every makeup artist's kit, it works! You can purchase this brush here.
7.MAC 224 tapered blending brush-  It's not that this brush can do a myriad of  things, because it can't.  But regardless, I use it everyday. If you want a subtle wash of color in the crease for natural definition, this brush get's it done. This brush works great as your final clean blending brush to buff your eyeshadow into nothing. You can purchase this brush here.
Brush cleaning and maintenance- Now that you know which brushes work, how to use them, and what they are made of, here is how you take care of them:
Spot cleaning- Spot clean your brushes every 1-2 weeks depending on how often you use them. Use a cleanser like this one from MAC, to remove surface stains, and bacteria. To spot clean follow these steps:
1. Pour a small amount of cleanser into a short glass.
2. Fill another cup or dish with clean water.
3. Dip only the bristles of the brush into the cleanser, and then gently rub the bristles in a circular motion on a clean paper towel or cloth. Repeat this step until cleaned
4. Rinse the clean brush off in the water, then pull the bristles back into there original shape.
5 Allow brushes to air dry over the edge of a table or counter, so that the bristles are not touching anything.
Deep cleaning- Deep clean your brushes every 1-4 weeks depending on how often you use them. If you are a makeup artist, your brushes must be cleaned (sanitized) before every client. To deep clean follow these steps:
1.Start out with a gentle shampoo or cleanser, I like Johnson and Johnson baby shampoo. If your going to use baby shampoo, spring for the actual name brand. I've tried off brands, and ended up going through the bottle three times faster,and washing the same brushes over and over.
2. Pour the cleanser into a cup or into the palm of your hand. At the sink, wet the bristles of your brush. Keep your brush as vertical as possible, to keep water from running back into the ferrule.
3.Apply the shampoo,and lather the bristles up by running over the palm of your hand.
4.Rinse the bristles off, and pull them back into the original shape. Let air dry over the edge of a table.
Tips
-Never use a hair dryer to dry your brushes faster, the heat will melt the glue inside the ferrule and you brush will start shedding.
-Never submerge in water.
-Never try to trim or cut the bristles.
– Never use a shampoo that you wouldn't use on your own hair.
-Always be gentle, brushes are an investment, get the most for your money.
And finally…..
MAKEUP MAYHEM:CURRENT FAVORITES
Lately, you can't swing a dead cat around without hitting a new beauty product. I believe many products are just repackaged ,or reformulated so consumers are more inclined to take a second look. With that being said, I still come across the odd product that I'm dying to throw in my makeup case.Here's a look at what I'm totally lusting after:
1.Sonia Kashuk Limited Edition Brush Couture Set-$14.99 : If the vibrant colored handles aren't enough,the fact that they feel like teddy bear tails should be. Five brushes in the set,and for just under fifteen dollars,they are nothing short of a steal! Available here
2.MAC Limited Edition(Tropical Taboo Color Collection) Cremesheen  Lip Glass in Calypso Beat-$20.00: MAC released four lip glosses with this collection,each more striking than the last. My favorite is the pale neutral peach shade Calypso Beat. Available here
3.Lorac Pro To Go Palate-$38.00:I'm not sure if I want it because it looks like the original gave birth to a cuter and more compact baby palate,or because the original is my all time favorite neutral palate.  Either way, from the moment I saw this I thought "oh your coming to live with me". Available here
4.Illamasqua Skin Base Foundation-$42.00: This foundation isn't new, I've just been longing to try it. After careful deliberation,and putting it in and out of my shopping cart twice, I've decided I should see what the fuss is about. Available here
5.Pinned Pretty Large Cosmetic Bag in Chevron-$21.50: These makeup bags are handmade and sold on Etsy,and can be sewn into just about any pattern. I love customizable options like adding vinyl lining, that way you can tailor it to your needs. Available here
And remember…
MAKEUP MAYHEM: BEACH BEAUTY MAKEUP MUST HAVES
After writing my last post on what ten clothing items are vacation essentials, I thought it only fitting to share my beach makeup survival kit. This isn't day at the beach makeup,but more like the products I'd pack if going on a getaway.So after careful deliberation ,I chose the below fab five. I took a logical approach to this challenge, and picked the products that I would actually need and use when getting my vacation on.After all,the last thing anyone needs is another summer makeup collage with some tinted lip balm ,a cheek stain,and mascara thrown in for good measure.( Girl,I have stuff to hide!)So without further ado,here it is:
1.The Loroc Pro Palate: I absolutely can't say enough good things about this palate. The looks you could do with this single palate are endless.It also doesn't hurt that the pigmentation is so rich,and the texture is creamy .And bonus,you can use the champagne shadow as a highlight.
2.Smashbox Camera Ready BB Cream: This is one of the only BB creams out there that actually can cover imperfections. Day to day I like a medium coverage foundation,because out of it you can go heavier or lighter depending on your needs. Unfortunately, bright sunlight can make heavier foundations look absolutely awful. Enter Smashbox BB cream. It blends into your skin flawlessly,and doesn't look fake in strong sunlight.
3.NYX Concealer In A Jar: I  picked this wonder of a concealer not just because it can cover random spots,but because it's creamy enough to deal with dark circles. I use this everyday,and I continually choose it over some of my more pricey products.
4. Benefit They're Real Mascara: It just works so well. It doesn't take you twenty minutes applying 10 coats,and yet it manages to separate every lash. I love,love,LOVE this!
5.Elf Bronzer and Blush duo in St Lucia: I've been using this as both as my contour,and bronzer for years. Its mostly matte,with very subtle shimmer. It doesn't hurt that the blush is gorgeous,or the fact that it cost $3.00.
And remember…
MAKEUP MAYHEM: HIGH END MAKEUP WORTH THE MONEY
When it comes to high end makeup,Ive done my research.And by research I mean shamelessly fawning all over any product to ever grace those department store shelves. Because of my incessant appetite for upscale cosmetics and my poor self control  ,you are in luck! I've thrown together a list of five high end products that actually have a leg up on their cost effective competition.Here it is:
1.Benefit they're Real Mascara-$23.00 and can be purchased here.
What I love: Its an all around great mascara. I really didn't want to love this a much as I did,because lets face it $23 dollars for mascara is pretty steep in my world .It adds volume,length,and separates.And the more I used it,the more I loved it.Believe the hype ,its just that good!
2.The Balm Mari-Lou Manizer-$24.00 and can be purchased here.
What I love: This is my all time favorite highlighter. Its manages to give you a candlelit glow where ever you go! I really love how this highlights your cheekbones with out making your pores look like the texture of the moon.
3.The Urban Decay Naked Palate-$50.00 and can be purchased here.
What I love:These eye shadows go on like butter baby! With mixes of golds,coppers,champagnes,and rich chocolates, you really can't go wrong. With shades like these, who doesn't love to be naked?
4.Obsessive Compulsive Cosmetics Lip Tars- $18.00 each and can be purchased here.
What I love: The pigmentation in these lip gloss-lipstick hybrid is really unsurpassed. You literally need a drop to do your entire mouth. I'm just wondering how OCC is going to stay in business because I can't imagine anyone ever running out!
5.Mac Powder Blushes-$21.00 and can be purchased here.
What I love: With classics like Peachy Keen and Pink Swoon ,and an extensive line of these one pan wonders, anyone can find a color that suits them. The formulation is a never chalky,always pigmented powder that buffs into the skin like nobody's buisness!
 And finally…

MAKEUP MAYHEM: Beauty Bargain Ten under $10
It seems as of lately there is a stunning transition of high end products creeping into the drugstore as cost effective counterparts. Here is my list of ten I can't live without.
1. NYX-Above and Beyond Concealer ($5.00 at www.nyxcosmetics.com)
What I love: So wonderfully creamy and perfect for the odd spot, yet can work on dark circles in a pinch!
2. Rimmel Stay Matte Pressed Powder ($5.49 at www.drugstore.com)
What I love: It actually stays matte! My skin which in the summer doubles as a slip-n-slide, that's no easy feat!
3. Maybelline Dream Lumi Touch Concealer ($6.39 at www.drugstore.com)
What I love: Use it to brighten and banish under eye circles and it doesn't crease or add fine lines.
4. NYX Megashine lip glosses ($6.79 at www.drugstore.com)
What I love: It's creamy and opaque, and they come in a range of gorgeous colors. These little wonders are an absolute dupe for Nars lip glosses, only they smell better!
 Maybelline Define-a-brow ($4.55 at drugstore.com)   
What I love: It's small and thin enough that you can actually get a natural looking result with a pencil. I use this interchangeably with my beloved lingering brow pencil from MAC.
6. Revlon Photo Ready Concealer ($7.99 at drugstore.com)
What I love: Although it's not as creamy as the one I previously mentioned from NYX, it has staying power like nobody's buisness. So go on, and cover up a multitude of sins!
7. Wet-n-Wild Color Icon eye shadows ( trio $2.99 at drugstore.com)
What I love: These beauties have a cult following, and with good reason! A highly pigmented, never flaky formula, and for $2.99 why not have them all?
8.Rimmel scandal eyes waterproof liner in nude ($4.49 at drugstore.com)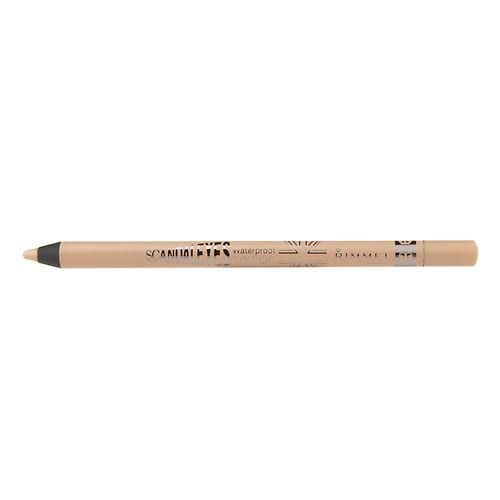 What I love: It's a nude liner that works well, and it's from the drug store! It gives a brightening effect to your peepers without looking as harsh as white.
9.Avon super shock mascara in black($9.50 at

www.avon.com

)
What I love: This is my absolute favorite first coat mascara. It separates and adds a great thick base. I use it with a couple coats of Maybelline falsies mascara, and then I hit the tips of my lashes with Maybelline Illegal lengths for good measure. I realize this may be a bit extreme for the faint of heart, but when done right it complete eliminates the need to wear falsies.
10. L'Oreal Infallible eye shadow ($7.95 at

drugstore.com

)
What I love: These pressed pigment eye shadows rival some higher end brands like MAC. They are so pigmented, and blend like butter.
 And remember…